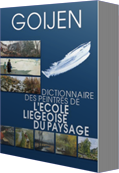 Discover
the dictionary of painters of the Liégeoise School of Landscape
Cet ouvrage rassemble une grande partie des paysagistes liégeois actifs entre 1880 et 1950.
Last exhibition
Juin 2022 au bureau
Rue Henri Vieuxtemps, 13
4000 Liège
The Liège School of Landscape
Sur le site de l'école liégeoise du paysage. Le patrimoine pictural liégeois est important ! L'ardenne a inspiré un mouvement post-impressionniste, Richard Heintz en est le plus illustre représentant. Le dictionnaire des paysagistes liégeois rédigé par Jacques Goijen a fait la synthèse de cette production de tableaux de paysage.
International
distribution
of paintings